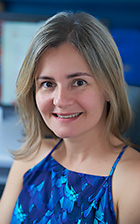 Associate Prof.a.
CNPq Scholarship 1D
Academic Training:
Ds. in Nutrition of Ruminants, UFV (2001)
MSc. in Nutrition of Ruminants, UFMG (1996)
Improvement in Nutrition of Ruminants, UFMG (1993)
Veterinary Medicine, UFMG (1991)
Areas of expertise:
Animal Science / Animal Physiology
Animal Husbandry / Nutrition & Feeding
Publications: Lattes / Researchgate
Laboratory:
Laboratory of Animal Physiology and Reproduction
Under-graduate courses:
ZOO 302 – Physiology of Animal Production
ZOO 497 – Seminar
Graduate courses:
ZOO 603 – Physiology of Animal Production
Contats:
Phone: + 55 031 3612-4629
Email: cristina.veloso@ufv.br
Recent Publications:
DIAS, J?LIO C?SAR OLIVEIRA ; Veloso, Cristina Mattos ; SANTOS, MADRIANO CHRISTILIS DA ROCHA ; OLIVEIRA, CARLOS THIAGO SILVEIRA ALVIM MENDES DE ; SILVEIRA, CAMILA OLIVEIRA ; IGLESIAS, ERICK ; MAITAN, PAULA PICCOLO ; SANGLARD, LET?CIA MARIA PEREIRA . Seasonal variation in the reproductive activity of male goats raised under tropical climate conditions. REVISTA BRASILEIRA DE ZOOTECNIA, v. 46, p. 192-201, 2017.
SOUZA JÚNIOR, ALCY HELENO DE ; LANA, ROGÉRIO DE PAULA ; TEIXEIRA, CÉSAR ROBERTO VIANA ; GIONBELLI, MATEUS PIES ; Veloso, Cristina Mattos ; RENNÓ, LUCIANA NAVAJAS . Protected fat and variable level of protein in diets of crossbreed cows in early lactation. Acta Scientiarum. Zootechny, v. 38, p. 107-112, 2016.
OLIVEIRA, Hellenn Cardoso ; GARCIA, Rasmo ; ALMEIDA, VITOR VISINTIN SILVA DE ; OLIVEIRA, Aline Cardoso ; PIRES, Aureliano José Vieira ; NASCIMENTO FILHO, CARLOS SOUZA ; Veloso, Cristina Mattos ; SILVA, Robério Rodrigues ; OLIVEIRA, UESLEI LEONARDO CARDOSO . Feeding behavior of lambs fed castor mealom farelo de mamona. Semina. Ciências Agrárias (Online), v. 37, p. 1451-1460, 2016.
CUNHA, C.S. ; LOPES, N.L. ; VELOSO, C.M. ; JACOVINE, L.A.G. ; TOMICH, T.R. ; PEREIRA, L.G.R. ; MARCONDES, M.I. . Greenhouse gases inventory and carbon balance of two dairy systems obtained from two methane-estimation methods. Science of the Total Environment, v. 573, p. 1-11, 2016.
MURTA, ROGÉRIO MENDES ; Veloso, Cristina Mattos ; PIRES, Aureliano José Vieira ; SILVA, Fabiano Ferreira da ; CARVALHO, Gleidson Giordano Pinto de ; EUSTÁQUIO FILHO, ANTÔNIO ; MARANHÃO, CAMILA MAIDA DE ALBUQUERQUE ; CRUZ, CLÁUDIA HORNE DA . Intake, apparent digestibility, production, and composition of milk from cows fed diets with different sources of lipids. Revista Brasileira de Zootecnia (Online), v. 45, p. 56-62, 2016.
GIONBELLI, T. R. S. ; ROTTA, P. P. ; VELOSO, C. M. ; VALADARES FILHO, S. C. ; CARVALHO, B. C. ; MARCONDES, M. I. ; FERREIRA, M. F. L. ; SOUZA, J. V. F. ; SANTOS, J. S. A. A. ; LACERDA, L. C. ; DUARTE, M. S. ; GIONBELLI, M. P. . Intestinal development of bovine foetuses during gestation is affected by foetal sex and maternal nutrition. Journal of Animal Physiology and Animal Nutrition (1986), v. 100, p. 1-9, 2016.
GEICIMARA, GUIMARAES ; ROGERIO, DE PAULA LANA ; ROSANE, CLAUDIA RODRIGUES ; CRISTINA, MATTOS VELOSO ; RENATA, DE SOUZA REIS ; MARIA, REGINA DE MIRANDA SOUZA ; SILVANE, DE ALMEIDA CAMPOS . Growth and composition of sugarcane and chemical attributes of the soil by fertilizing with different levels of cow manure. African Journal of Agricultural Research, v. 11, p. 3984-3990, 2016.
KNUPP, L. S. ; VELOSO, C. M. ; MARCONDES, M. I. ; SILVEIRA, T. S. ; SILVA, A. L. ; SOUZA, N. O. ; KNUPP, S. N. R. ; CANNAS, A. . Dairy goat kids fed liquid diets in substitution of goat milk and slaughtered at different ages: an economic viability analysis using Monte Carlo techniques. Animal (Cambridge. Print), v. 10, p. 1-10, 2015.
SILVA, ALEX LOPES DA ; MARCONDES, MARCOS INÁCIO ; Veloso, Cristina Mattos ; SOUSA, FERNANDA CAMPOS DE ; KNUPP, LEONARDO SIDNEY . Simulation of rumen fermentation kinetics of by-products from the biodiesel industry with in vitro gas production technique. Semina. Ciências Agrárias (Impresso), v. 36, p. 3851-3862, 2015.
DIAS, J.C.O. ; VELOSO, Cristina Mattos ; OLIVEIRA, R. F. M. ; CARVALHO, G.R. . O neuropeptídeo kisspeptina e a reprodução animal: uma revisão. Multi-Science Journal, v. 1, p. 96-110, 2015.